Boosting student retention and graduation rates at minority serving institutions.
It is the intent of this collaborative to increase the college success of minority students by demonstrating and disseminating several empirically based methodologies designed to increase the retention and graduation rates of students enrolled in Tribal Colleges and Universities (TCUs), Hispanic-serving Institutions (HSIs) and Historically Black College and Universities (HBCUs) and Predominantly Black Institutions (PBIs).

Help institutions increase the number of students completing their academic programs.

Identify successful intervention strategies for supporting student success.

Disseminate and support implementation of these strategies.

Build a community of practice around student success.
Our model uses a combination of assessment, education, coaching and collaboration among institutions to improve student success.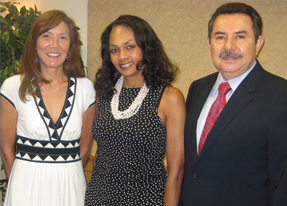 Pictured from left to right: Dr. Carrie Billy, President, AIHEC; Lezli Baskerville, Esq. President & CEO, NAFEO; Dr. Antonio Flores, President, HACU.

Members of the collaborative can visit our private site at
www.msistudentsuccess.org

This project is a collaboration between the American Indian Higher Education Consortium (representing Tribal Colleges and Universities, TCUs), the Hispanic Association of Colleges and Universities and the National Association for Equal Opportunity in Higher Education (serving Historically Black Colleges and Universities, HBCUs and Predominantly Black Institutions, PBIs). Combined these institutions educate more than one-third of all students of color in the United States.